Screen & Video Recording
Audio communication is only a fraction of the interaction that takes place during a call. Throughout the conversation, the call-taker's monitors fill with important data as they take notes and communicate with other personnel/departments. This on-screen activity does not get captured by most recorders but is essential to ensuring staff follow the proper procedures. This can save lives as well as time and money.
Exacom has a set of tools that capture this on-screen data in combination with audio (and other media), providing a central place to make sure your bases are covered.
Schedule Your Consultation Now
Mission-Critical Screen Recording
Our powerful screen capture and video recording features will help you ensure your processes and procedures are being followed, saving you time and money.
Record screen video before, during, and after a call

Use screen data in your quality assurance practices

Review specific incidents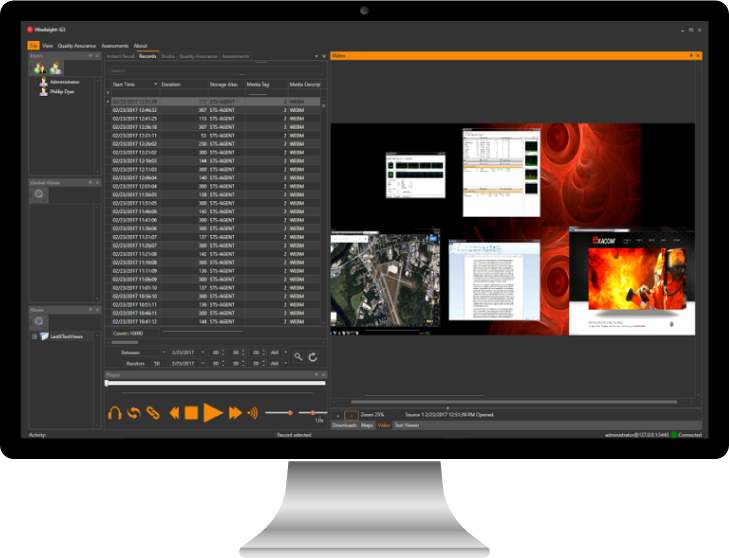 Why Choose Exacom?
Cybersecurity At the Forefront
Our recorder is the only one certified by the DoD for Cybersecurity and Interoperability, and we've taken countless other measures to ensure our customers' security.
Flexible Recording Capabilities
Record nearly every kind of data at any location, anytime you want, and in a variety of methods.
Driving Industry Advancements
We work on your behalf to advance industry standards, integrations, and technologies—so you don't have to.
IT-Friendly Recording Solutions
IT Departments love us! We offer a variety of flexible deployment options, automatic backup and alerting features, and more.
Scalable, Cost-Effective Solutions
Our systems scale from small and simple to large and complex, so you don't pay for more than you need.
Field-Tested & Industry-Proven
We've been designing recording technology for over 30 years and have successful installations around the world.
IT-Friendly Recording Solutions
Software features that will keep your IT team happy and your communications systems healthy.
Flexible Deployment Configurations
From on-premise to virtual to cloud, we work with you to determine the best solution to fit your situation.

Software-Focused Approach
Our recording is 100% software-based. That makes our recorders highly scalable and easily maintained or upgraded.
No-Hassle Monitoring Features
Our systems include SNMP-based self-monitoring software that alerts you as soon as there's an issue.

Pure COTS Hardware
Best-in-class commercial-off-the-shelf (COTS) hardware provides a wide range of alternatives to deliver on simple and complex configurations.