Concord, NH, September 12, 2022 – Exacom is excited to announce that their multimedia logging recorder solution, HindSight, is now available on a variety of government purchasing contracts: General Services Administration (GSA) Multiple Award Schedule (MAS), 2nd Generation Information Technology (2GIT), NASA Solution for Enterprise-Wide Procurement (SEWP), and the National Cooperative Purchasing Alliance (NCPA). This allows government agencies who can purchase via these contract vehicles easy procurement of the only multimedia logging recorder JITC-certified by the Department of Defense for Cybersecurity and Interoperability.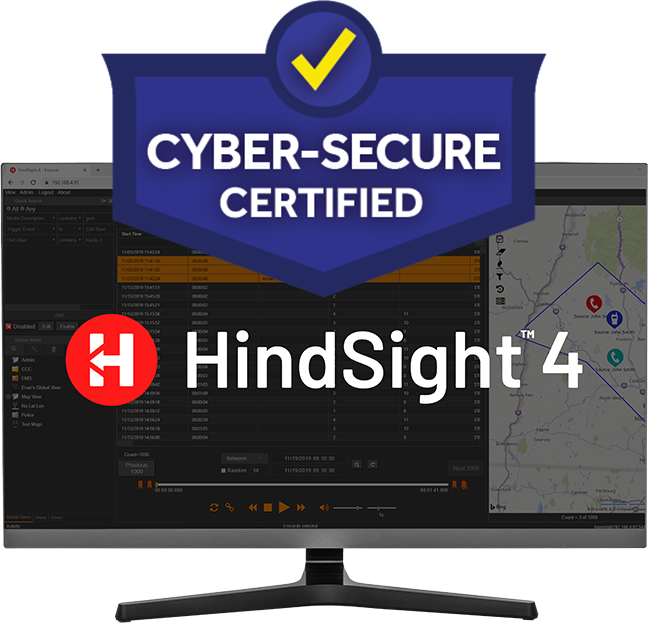 "Government agencies are increasingly concerned with cybersecurity and are looking for easy access to tested, highly secure solutions," said Exacom President & CEO Al Brisard. "Recording in general is being used in more places within government to enhance their security posture. Now the recording solution itself, as evidenced by Exacom's JITC certification, is highly secure."
To make their products available on these contracts, Exacom awarded a GSA Letter of Supply to Lyme Technology Solutions, Inc., a national technology solution provider.
"For an organization to be cyber secure, every element on a network must be secure, including the multimedia logging recorder."
"Cybersecurity is vital to business and the federal government, as evidenced by President Biden signing the Executive Order on Improving the Nation's Cybersecurity in May of 2021," said Andrew Sullivan, CRO of Lyme Technology Solutions. "For an organization to be cyber secure, every element on a network must be secure, including the multimedia logging recorder. With Exacom, Government agencies can be confident that this area of their network is aligned with their strict security policies."
Exacom provides voice audio, video, SMS, IoT, and event recording solutions for the Department of Defense (DoD), Federal, and State, Local, and Education (SLED) agencies. With installations at over 130 Air Force Base 911 centers, they are one of the leading companies trusted to record mission-critical public safety and military communications. Their solutions are JITC tested and certified, and they interface with over 80 communications technologies including P25, SIP & NG 9-1-1.
Lyme Technology Solutions, Inc. is a 100% employee-owned information technology solution provider dedicated to servicing the government market since 1984. The company partners with leading technology manufacturers to provide optimal, cost-effective solutions for information technology requirements. Lyme's goal is to help clients derive real business value from their information technology investments.
The GSA MAS and the 2GIT BPA are currently used by many federal, state, and local government agencies like military branches, public safety groups, executive agencies, and more. Exacom's products are listed under GSA contract number GS-35F-465GA.
NASA's SEWP Government-Wide Acquisition Contract can be used by all federal agencies and government contractors. Public and non-profit organizations, including schools, colleges, and healthcare organizations can use the NCPA purchasing cooperative.
About Exacom
Exacom is a leading provider of multimedia (analog, RoIP, VoIP, text /SMS, and screen capture) logging/recording solutions. In 2020, they were named on the Inc. 5000 list as one of the nation's fastest-growing private companies. Their solutions span across public safety, government, DoD, energy, utilities, transportation, and security applications. With thousands of recorders installed across the world, their solutions are proven to exceed the demanding needs of today's complex and rapidly advancing mission-critical environments. For more information, visit: https://exacom.com/.