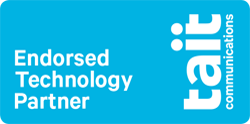 Article originally posted on TaitRadio.com
Tait Communications, a global leader in the design, delivery and management of critical communication solutions, has announced that its DMR Tier 3 offering now supports Exacom Hindsight multimedia logging recorders.
Exacom, an Endorsed Tait partner, and Tait have extended their P25 cooperation to now support the recording interface to Tait's DMR solution.
"Our partnership with solution providers such as Exacom means that organizations can reap the benefits of greater choice and flexibility when implementing a digital communications solution from Tait," says Ellery Hurn, Partner Product Manager, Tait Communications. "By choosing technology based on and compliant with the DMR standard, organizations avoid being locked into a single vendor's offerings. It means they can achieve better value through multi-vendor solutions and be assured of interoperability with equipment and infrastructure sourced from other DMR-compliant suppliers."
"Exacom is excited to add Tait DMR Tier 3 digital trunked radio recording to our vast list of integrations," said Product Manager Mark Woody. "With this integration, our newly-released HindSight Lite recorder becomes one of the most economical and powerful logging recording solutions for smaller organizations within the utility, transportation, and industry security sectors."
Exacom will be simulating its Tait DMR Tier 3-compatible Hindsight media loggers during the International Wireless Communications Expo (IWCE) at booth #1345 in Las Vegas, Nevada, March 4th–8th, 2019.
Tait Communications DMR solutions allow organizations to minimize costs and increase return on investment, while operating a highly resilient, consolidated voice-and-data network.
Tait DMR includes integrated location services, over-the-air programming, network management, encryption and security features — with a stress-free, seamless migration pathway.
Email Me Articles Like This