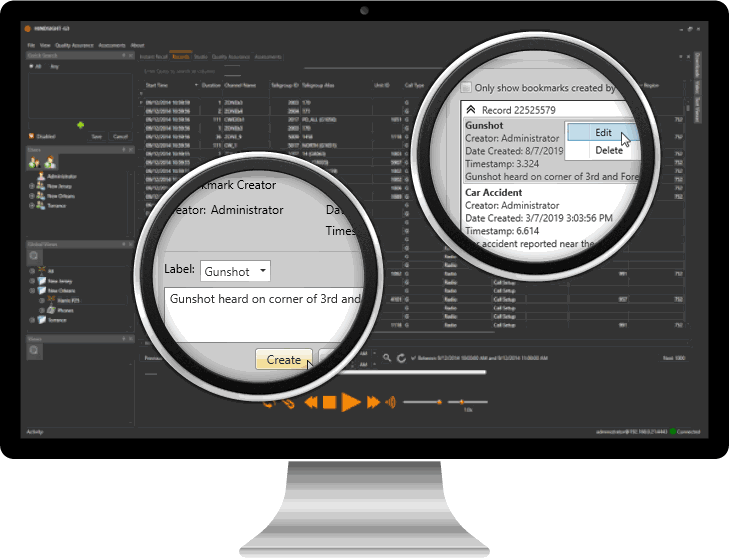 For years, HindSight G3 customers have been able to Tag or add Notes to any recordings. For example, a Supervisor could tag a recording with the label "gunshot" and then pull up a list of recordings that contained gunshots. Users could also tag a record with a specific incident ID or number. This is useful when sorting through records to find a specific one, or to set a group of recordings apart.
Yet, this feature does not allow our customers to segment out different sections of a recording. Before Time Relative Bookmarks, there was no easy way to bookmark a notable event within a recording. As a result, reviewers often spend extra time sifting through records manually or taking manual notes of timestamps.
Time Relative Bookmarks lets our customers mark up recordings within HindSight G3 as actionable segments. Exacom is one of few recording vendors that offer such a feature.
G3 Customers Not on ExaCare
Software updates are only available to Customers who are currently enrolled in ExaCare. This valuable support program has many other features designed to keep your systems running efficiently and reliably.
HindSight G2 Customers
Customers running HindSight G2 are not eligible for this update; it is only available to customers who have purchased the HindSight G3 client. HindSight G3 features many new features—not just Time Relative Bookmarks—to speed up your productivity and streamline operations. See G2 vs. G3 compared.
Contact your Exacom Account Manager or email us to learn more about upgrading from G2 to G3.