Analog & IP Audio Logging Recorder
HindSight™ 4 Lite Voice Logging Recorder
HindSight 4 Lite was designed with smaller organizations in mind. This phone and radio logging system is elegantly simple and straightforward, making it a cost-effective option for organizations with smaller recording needs.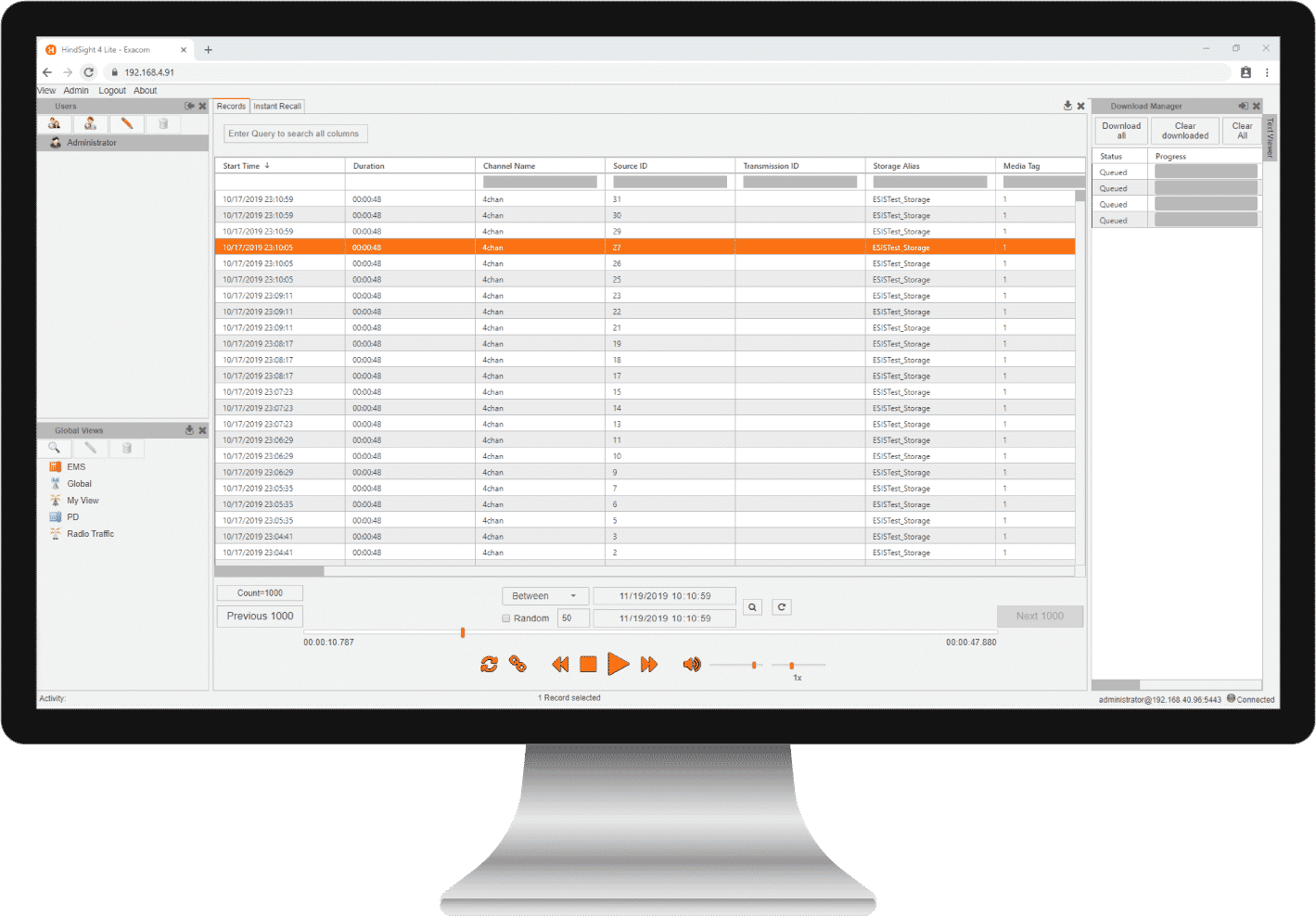 Phone & VoIP Conversations
Text-to-911 (SMS) Messages
Record Everything
High-Availability Multimedia Logging Recorders
Record every detail of an incident: the initial communication, every follow-up communication, and any dispatch details. Then, reconstruct the incident later to see exactly what happened.
Record a variety of communication types, including NENA NG 9-1-1 (i3), APCO P25 radios, FirstNet and other MCPTx, and more.
Radio & RoIP Systems
L3Harris™ VIDA P25 Radio w/wo Encryption »
EFJohnson/Kenwood P25 Radio
Motorola Solutions™ »
Airbus/Cassidian P25 Radio w/wo Encryption
ASTRO P25 Radio w/wo Encryption
MOTOTRBO Radio
Tait Radio »
DMR Tier 2 Conventional Radio
DMR Tier 3 Digital Trunked Radio
Telex
& More!
CPE / Call Handling
Compunetix
Emergency Call Worx
Intrado
Includes Text-to-911 Formerly West
Motorola Solutions™ Vesta
Formerly Airbus
Solacom
And More!
Dispatch Consoles
Avtec Scout
Catalyst
L3Harris
Maestro, Symphony
Motorola Solutions
MCC7500, MIPS5000, WAVE
Telex Vega
Zetron
ACOM, MAX Dispatch
Supplemental Emergency Data
Recordings Where You Need Them Most
Let Your Tools Work For You
Reduce how much time you spend in your logging recorder by moving recordings in and out to other systems or people automatically.
Have a solution you want us to integrate with? Our API makes it easy. Contact us to get the process started.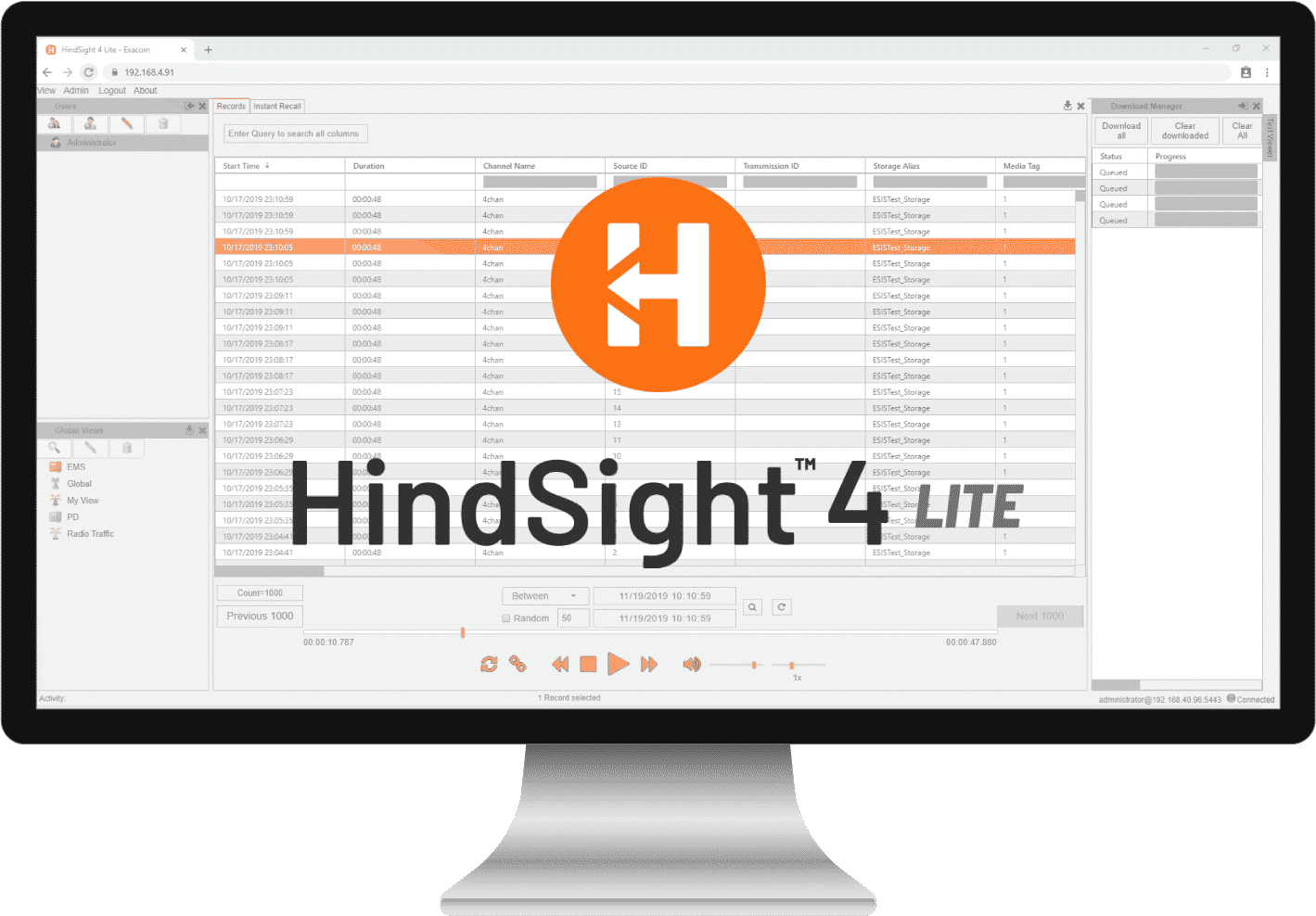 Pay Only For The Recording Features You Need
Record up to 48 channels on a single server

Leverage your integrations to their fullest potential with complete metadata recording

Use chain, repeat, and variable speed for seamless audio recording playback

Tag audio and text recordings for easy grouping and recall

Export, download, save & email records quickly

Capture and archive Text-to-911 (NG 9-1-1) SMS messages
Instant Replay
Users can control volume levels and speed (without making it sound like a chipmunk) to make it easy to understand what's being said.
Easy Record Management
Use tags to segment recordings by CAD Incident ID or court case number. All types of media (audio & text/SMS) are visible in a single search pane. Collected records can easily be exported before being emailed or burned to a CD.
Grow Easily
Exacom uses open architecture (Windows OS, SQL databases, and COTS hardware) to build our logging recorders, so they're easy to maintain and scale. Add more recorders cost-effectively as your communications expand.
Control Your Archival & Storage
Automatically delete recordings based on retention schedules that you set. We also have a wide variety of cost-effective storage options depending on your retention schedules and recorded media types.
So Much More Than a Box of Recordings
Cost-Savings
|

FLexibility

|

Scalability
To protect your organization and leverage real insights, you need to record communications wherever they happen. You also need to be able to flexibly access those recordings and information. Our solutions are uniquely engineered for these complex situations.
The Complete Recording Package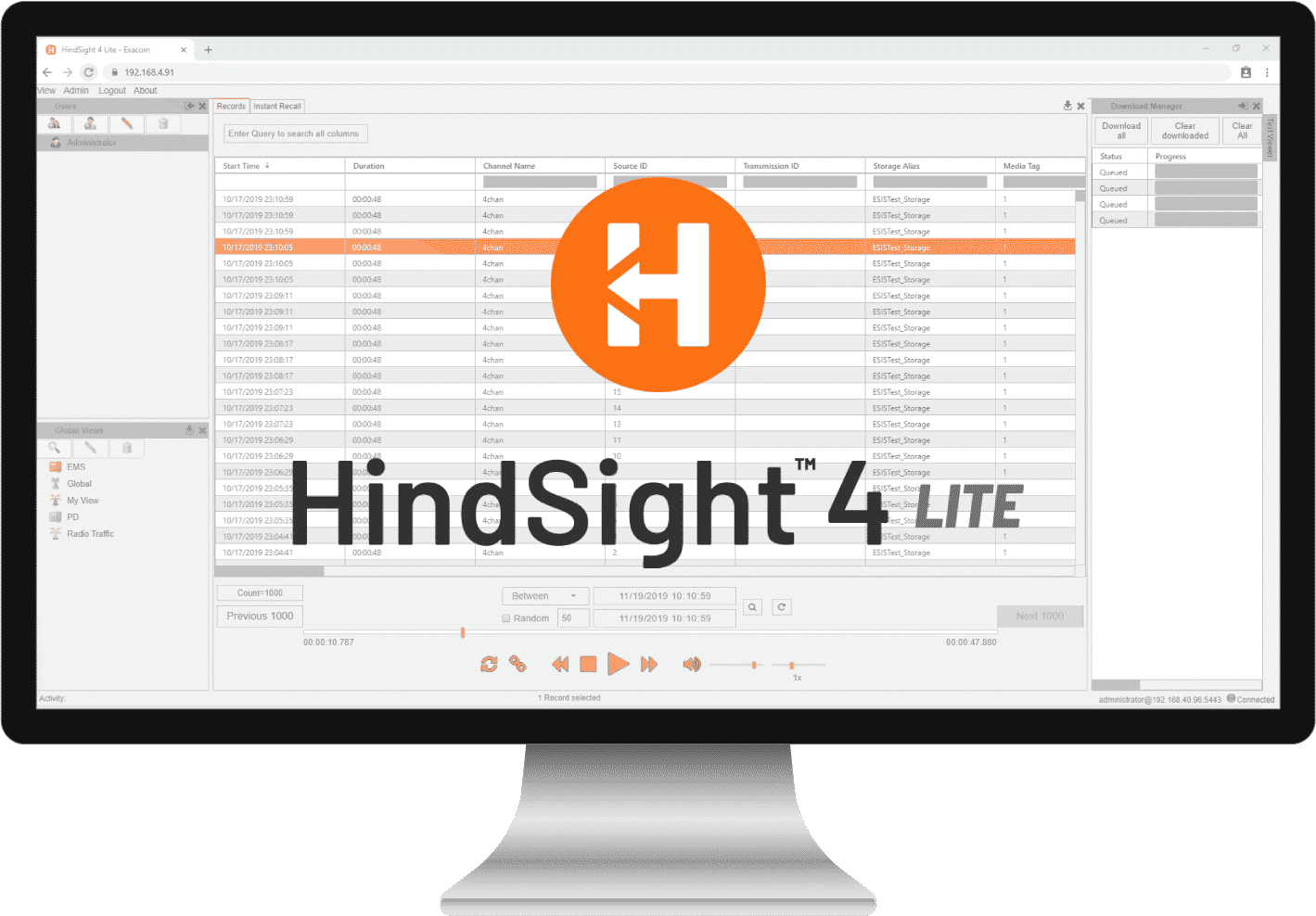 Powerful Recording Software
HindSight 4 Lite
HindSight is a feature-rich web application that runs on any modern browser. It connects via any VPN/network to the logging recording hardware that captures and stores interactions. This software is refined continuously in partnership with our mission-critical customers.
Proactive  Customer Support
Exacom has one of the highest-rated support and service teams in the recording industry. With manufacturer-direct support and all of our support staff based in North America, it's easy to see why.